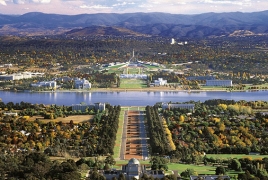 March 27, 2018 - 10:47 AMT
PanARMENIAN.Net - Federal Member for Goldstein, Tim Wilson rose in the Australian Parliament on Tuesday, March 27 and remembered the Armenian Genocide, paying particular attention to the relief efforts made by Australians to aid the survivors of the Genocide, the Armenian National Committee of Australia reports.
A delegation from the ANC-AU was present in the Federation Chamber as Wilson, who is of Armenian heritage, started his 90-second Member Statement by stating: "Today we acknowledge the incredible contribution of Victorians and Australians toward the relief funds to aid the victims—the families, children and orphans—of the Armenian Genocide."
Wilson continued: "The marching of Armenians to their death started a mobilisation of Australians for their lives. The then Lord Mayor of Melbourne, Sir David Hennessy, wrote to The Age newspaper of his opening of 'a fund for the relief of the remnant of Armenia'. The Lord Mayor trusted in 'a liberal response by the citizens of Victoria to this urgent appeal'."
He added: "Today we honour the memory of Armenians who lost their lives and the Victorians and the Australians who rallied to the cause of their relief."
ANC-AU Executive Director Haig Kayserian thanked the Member of Parliament for bringing light to "such an important chapter of Australia's history".
"Armenian-Australians take great pride in the research conducted by Professor Peter Stanley, Vicken Babkenian, Dr. Panayiotis Diamadis and the countless other academics and researchers involved in the Australian Institute for Holocaust and Genocide Studies chaired by Professor Colin Tatz," Kayserian said.
"Their work has uncovered an important link between our history as Australians and the history of our Armenian origins," he added. "We know, because of this research, that Australians saved Armenian lives during the Armenian Genocide, and Mr. Tim Wilson has done a tremendous service to both Australia and Armenian-Australians by bringing light to this important chapter in history."
Some three dozen countries, hundreds of local government bodies and international organizations have so far recognized the killings of 1.5 million Armenians in the Ottoman Empire as Genocide.
Turkey denies to this day.