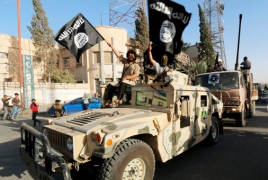 March 27, 2018 - 17:22 AMT
PanARMENIAN.Net - Video footage has been released showing a unit of Syrian army-allied Baqir Brigrade fighters storming an Islamic State hideout south of the T-2 military airport in Deir ez-Zor province, Al-Masdar News reports.
The combat footage is linked to ongoing clashes between Syrian pro-government forces and IS militants throughout eastern Syria; the unnamed village shown in the video is reported to be very close to the country's border with Iraq.
Despite IS launching its own attacks against the Syrian army and allied paramilitary groups across Deir ez-Zor province, Syrian forces themselves continue to launch small search-and-destroy operations aimed at weeding-out Islamic State gathering areas.
The Baqir Brigade part of the Syrian army's national paramilitary arm – officially called the National Defence Forces. The formation is made up of fighters from the Al-Baggara tribe.