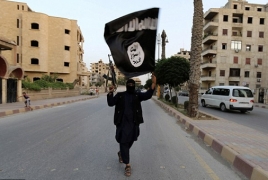 March 30, 2018 - 12:15 AMT
PanARMENIAN.Net - The correctional court of Belgium's Mechelen found the 38-year-old Arben Imishti, an Islamic State fighter in Syria from Schoten (Antwerp), guilty of terrorist murder, The Brussels Times reports.
The man was seen in a decapitation video next to the British IS fighter Mohammed Emwazi, better known as Jihadi John. Imishti participated in the execution, but he wore no mask and could therefore be later identified by the security services.
The Belgian was sentenced to 30 years in absentia. Family members claim that he died, but the public prosecutor's office did not believe the family's assertion.
"It would not be the first time that someone is declared dead in Syria, so they can return to our country clandestinely and avoid a trail. We have not seen a death certificate. The only news we have about his death came from an IS emir. That is not enough for us to pronounce him dead", said federal prosecutor Antoon Schotsaert.
The grisly events took place in November 2014, barely two months after Imishti had left for Syria. The video in which he was identified shows the beheading of some twenty soldiers from the Syrian army.
The video caught the attention of the Belgian security services, and a year later could they identify Imishti as a participant in the beheading.