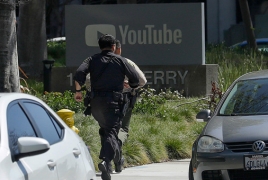 April 4, 2018 - 10:30 AMT
PanARMENIAN.Net - Terrified employees fled as gunfire rang out at YouTube's sprawling headquarters in San Bruno, California, on Tuesday, April 3, prompting a massive police response and evacuation as victims were transported to nearby hospitals. San Bruno police identified the suspect late Tuesday as Nasim Najafi Aghdam, 39, who was found dead from what authorities believe is a self-inflicted gunshot wound, CBS News reports.
San Bruno Police Chief Ed Barberini three people were transported to local hospitals with gunshot wounds.
The San Bruno Police Department said it is investigating a motive for this shooting. Earlier reports indicated the suspect may have known one of the victims, but police said late Tuesday that "at this time there is no evidence that the shooter knew the victims of this shooting or that individuals were specifically targeted."
Barberini said police arrived on scene at 12:48 p.m. local time and encountered frantic employees fleeing the building. "It was very chaotic as you can imagine," he said.
Responding officers encountered one victim with a gunshot wound toward the front of the building before finding the deceased suspect, Barberini said. Several minutes later, police located two additional victims at an adjacent building.
Barberini later said the suspect used a handgun and there was no further threat to the community.
San Bruno police officially identified the suspect as Nasim Najafi Aghdam, 39, of San Diego. Police said they are investigating the motive for the shooting. Law enforcement sources tell CBS News that Aghdam's parents are Iranian.
Sources said Aghdam initially asked for one of the male victims by name, and that she used 9mm handgun during the shooting.
Jaclyn Schildkraut, an expert on mass shootings research and assistant professor at the State University of New York (SUNY) at Oswego, told CBS News it was "very uncommon" to have a female suspect.