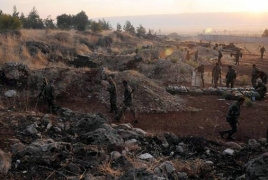 April 5, 2018 - 12:02 AMT
PanARMENIAN.Net - Amid the seemingly never-ending saga of finding hidden Islamic State arms caches throughout western Deir ez-Zor province, the Syrian army has very recently discovered an underground munitions storage site belonging to the militant group in the town of Sabaykhan (south of Al-Mayadeen city), Al-Masdar News reports.
A range of ammunition types were discovered including anti-tank guided missiles, mortar shells of different calibers and in various status of assembly, improvised explosive devices (IEDs), explosive creates known to be used by IS for car bombs and bullets for basic small arms.
Among the anti-tank guided missiles were discovered two types: the 9K111 'Fagot' and 9M14 'Malyutka.' These missiles are vintage designs compared to other anti-tank systems Islamic State militants have been known to use such as the Kornet, Konkurs and US-built TOW.
According to a report, IS has hidden weapons and ammunition in frontline areas throughout western Deir ez-Zor province where it hopes it can quickly reach during raids and assaults against the Syrian army.