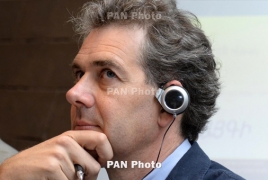 April 6, 2018 - 11:23 AMT
PanARMENIAN.Net - Top Armenian officials are currently a much more impressive bunch than before, but the parliament remains a nexus of business and politics that breeds corruption, British journalist and writer on the Caucasus Thomas de Waal says in a fresh article about whether the new system in the country will bring any change.
On April 9, constitutional reforms will change the way Armenia is governed. The second and final presidential term of Serzh Sargsyan will end; he will resign as president and head of state, along with the current government. Armenia's former ambassador to Great Britain, Armen Sarkissian, will become president but that position will be much more of a ceremonial post. Sargsyan had earlier denied that he wanted to become prime minister, but all the indications are that he will.
"Serzh Sargsyan has methodically put in place pieces of a puzzle that can push Armenia forward. The key question of course is, will they?" the article on Carnegie Europe says.
"The top officials are a much more impressive bunch than before. In 2016, Sargsyan got rid of the deeply unpopular Hovik Abrahamian and appointed a more dynamic prime minister, Karen Karapetian, who has secured higher levels of foreign investment and economic growth, which was 7.5 percent last year. He also appointed Vigen Sargsyan (no relation), a professional, U.S.-educated, 42-year-old presidential aide to be a civilian defense minister. A key part of his brief is to tackle corruption, which many Armenians blame for losses in the fighting with Azerbaijanis in April 2016. The urbane new president, Armen Sarkissian, is a good choice, being one of Armenia's best-known international figures, variously an academic, diplomat, and businessman.
"The underlying problems remain huge. The parliament, rendered more powerful by the constitutional changes, remains a nexus of business and politics that breeds corruption. Emigration rates remain high. Moreover, the fundamental problem of the unresolved Karabakh conflict and the closed borders with Azerbaijan and Turkey hangs over the country.
"If prime minister Sargsyan really wants a better-functioning and more open Armenia, then we should be watching closely whom he appoints to key government posts. In other words, is Sargsyan thinking about an exit strategy or is he just happy to see more of the same?"