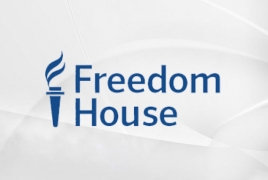 April 11, 2018 - 13:52 AMT
PanARMENIAN.Net - Armenia has been ranked as a semi-consolidated authoritarian regime in the in the Nations in Transit report prepared by the Freedom House.
The country's democracy score declined from 5.39 to 5.43 in a scale of 1-7 (1=most democratic, 7=least democratic).
"While Armenia's constitution and laws ostensibly enshrine the principles of democracy, autocratic practices pervade governance in practice," the report says.
"National governance in 2017 was generally stable, with ruling elites focusing on solidifying Armenia's constitutional transformation—a plan, approved in a 2015 referendum, to change the country from a semipresidential system to a parliamentary one. The most significant step of the year in this transformation took place in April, when parliamentary elections were held under the country's new electoral system.
Questions linger about whether president Serzh Sargsyan will pursue formal public office—for example, as the new prime minister, who will hold most executive power—or influence politics from behind the scenes as leader of the Republican Party of Armenia. His choice, and the filling of the prime minister's seat if he chooses not to take it, will have fundamental ramifications for institutions at the national level, and will also serve as a strong indication of ruling elites' true intentions regarding the constitutional changes. The year will also be a testing ground for Armenia's ambitious foreign policy, particularly for its ability to balance closer cooperation with the EU with its heavy dependence on Russia."
In 2018, Nations in Transit registered the most score declines in the project's 23-year history: 19 of the 29 countries had declines in their overall Democracy Scores. For the second year in a row, there are more Consolidated Authoritarian Regimes than Consolidated Democracies.