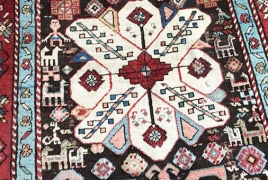 April 13, 2018 - 12:56 AMT
PanARMENIAN.Net - The Armenian Rugs Society, a Los Angeles-based organization dedicated to promoting, preserving and advancing Armenia's ancient rug culture, has issued an announcement, in which it sounds an alarm on Azerbaijani efforts—campaign—to claim ancient Armenian textiles and woven carpets as their own, Asbarez reports.
"Official Azerbaijan, in collusion with members of the private sector close to the Azeri regime, has launched a campaign geared towards appropriating ancient Armenian carpet, rug, and textile weaving traditions and production as their own by generating articles in local and international news outlets, sponsoring exhibits, and publishing art books that portray Armenian woven arts and history, as their own," the statement says.
Several Azeri news sources, supported and abetted by the Azeri government—a notorious human rights violator–have recently published articles erroneously claiming that what are clearly Armenian carpets and rugs of global renown, from a variety of historic Armenian regions, including Artsakh (Nagorno Karabakh), respectively, are Azeri cultural artifacts and traditions.
According to the Society, this unabashed falsification of history and cultural capital is the latest in a long line of smear campaigns and propaganda that not only strike at the heart and soul of Armenian cultural identity, but is a harsh blow to the international arts community and to woven arts scholarship in general, putting in serious danger whole academic disciplines and bodies of work.
"This concerted effort to usurp, appropriate, and distort Armenian cultural traditions and production, and its dire consequences to international arts scholarship, must be stopped immediately, the statement says.
"With the help of scholars, textile experts, and organizations, both Armenian and non-Armenian, we can begin to set the record straight and uphold, with dignity, these global cultural traditions that have brought so much joy, meaning, and artistic excellence to not only the Armenian people, but to world culture and history over the span of centuries."