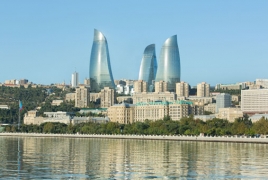 April 19, 2018 - 19:14 AMT
PanARMENIAN.Net - In 2019, Azerbaijan and Pakistan may sign an agreement on purchasing Pakistani JF-17 fighter-bombers. The announcement was made by the representative of Pakistan Aeronautical Complex (PAC), as reported by Haqqin.az.
'The configuration of JF-17 Block 3, Azerbaijan is interested in, is now ready. The radar of AESA system is selected for the bombers and it will soon be tasted. The contract on the purchase may be signed in 2019,' said the representative of the producing company.
The representative also noted that the mass production of the JF-17 Block 3 will start in late 2019 or early 2020. According to the PAC representative, all the technical issues that can affect the sale to Azerbaijan are already successfully solved.
'By the end of 2018, it is planned to present the bombers to Azerbaijan as well as to other countries which also placed an order. Meanwhile Azerbaijan still needs to solve the issue of financing the deal", reported the representative.
In his message it was also stated that by the end of 2018 Pakistan will pass the 10 Super Mwushshak planes for training which were ordered by official Baku.