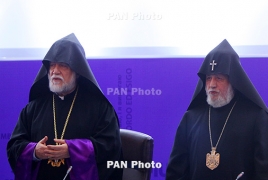 April 20, 2018 - 17:44 AMT
PanARMENIAN.Net - On the morning of April 20, the Catholicos of Great House of Cilicia, Aram I is arriving to Armenia for several hours. The Catholicos will be returning to Antelias on the same day. Before travelling to Armenia, in the airport in Beirut he answered the questions of Cilicia TV about the situation in Armenia. Aram I expressed his concerns and opinions about the recent developments in the country.
"We are all worried. As the empowerment and development of Armenia is the obligation and pride for all of us, the pain and concerns of our nation is also ours. Hence we couldn't stay indifferent about the problems bothering our nation. We cannot stay indifferent about the events happening in the streets of Yerevan", said Catholicos as reported by Panorama.am.
According to Aram I, it is the right of the people to express their dissatisfaction and expectations in a civil way. He reminded that he himself had expressed his dissatisfaction regarding the emigration and the people's life standards in the country and in case of necessity he is ready to keep expressing his opinions.
"This is the right and at the same time also the obligation of each Armenian", stated Aram I.
According to Aram I, the protests being held in the streets of Yerevan during the recent days are an expression of rebellion in the country.
"Regardless what the reasons for the conflict and protests are, it is inexcusable to have a blood of an Armenian in our sacred land. It is unforgivable to have conflicts between our young people and the police. Everyone is our dear and beloved child. All the concerns and issues should be discussed and solutions should be given with joint forces together with the president of the country and all the forces representing the people. We should remain with the spirit of love and understanding. This is the leading and correct was to solve the issues. This is our expectation from the government as well as from the beloved sons of our nation", said Aram I.
For 8 days in row the Armenian opposition continues holding mass protests against the ex-president Serzh Sargsyan becoming the new Prime Minister of the country. The protesters hold demonstrations in the center of the capital attempting to block government buildings and close main streets of the city.