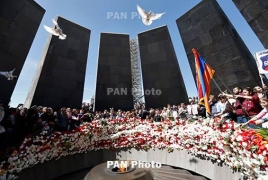 April 24, 2018 - 13:09 AMT
PanARMENIAN.Net - Members of the California Legislature on Monday, April 23 commemorated the 103rd anniversary of the Armenian Genocide, even as the United States continues to turn a blind eye to the Genocide of 1.5 million Armenians.
"We commemorate the anniversary of the Armenian Genocide and the 1.5 million lives lost. What happened 103 years ago can never be undone, but through education we take steps to ensure that history never repeats itself," said Senator Scott Wilk. "The strength of the survivors and their descendants is evidenced by the leaders, innovators and thinkers of Armenian descent who have enriched our communities and thrived both here in America and throughout the world."
"Today, we remember and honor the 1.5 million souls lost during the Armenian Genocide and celebrate the strength and perseverance of our community," stated Assembly member Adrin Nazarian. "Our community is flourishing in California yet we must remain vigilant against injustice, home and abroad."
"I am honored to join with the Armenian Caucus to coauthor a resolution recognizing and commemorating the Armenian Genocide. While Washington continues to accept Turkey's' century of denial and Azeri aggression toward Artsakh I am proud of California's efforts to lead by example and annually recognize the Armenian Genocide and expose and condemn civil rights abuses perpetrated against the Armenian people," commented Senator Anthony Portantino.
"We reflect today upon one of the darkest chapters in our shared history," said Assemblymember Laura Friedman (D-Glendale). "In the Capitol and across California, we pause to honor the 1.5 million lost, we celebrate the resiliency of the Armenian people, and we remind our leaders that until there is worldwide recognition of the Genocide, justice is denied."
On Tuesday, April 24, Armenians worldwide are commemorating the 103rd anniversary of the Genocide which began in the Ottoman Empire in 1915 and continued until 1923. Some three dozen countries, hundreds of local government bodies and international organizations have so far recognized the killings of 1.5 million Armenians in the Ottoman Empire as Genocide. Turkey denies to this day.