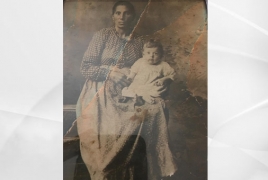 April 25, 2018 - 16:01 AMT
PanARMENIAN.Net - American actor Joe Manganiello has commemorated the Armenian Genocide on the 103rd anniversary of the beginning of massacres by posting a photo of his great grandmother, an Armenian Genocide survivor, on Instagram.
"This is my great grandmother. She was shot and left for dead right after witnessing the murder of her husband and seven of her children in her home in Kharput, Armenia in 1915. Her eighth child would later die during her escape," the actor who has Armenian roots, said.
"This is her three years later with my infant grandmother in Constantinople right before she got onto the boat to come to America. This happened.
"We can never forget that it did lest we become accomplices to future genocides."
"I am indebted to the strength and fortitude of my great grandmother and to all of the Armenians that survived this hellish time. Without them I wouldn't exist."
On Tuesday, April 24, Armenians worldwide commemorated the 103rd anniversary of the Genocide which began in the Ottoman Empire in 1915 and continued until 1923. Some three dozen countries, hundreds of local government bodies and international organizations have so far recognized the killings of 1.5 million Armenians in the Ottoman Empire as Genocide. Turkey denies to this day.