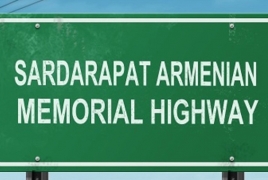 April 26, 2018 - 11:09 AMT
PanARMENIAN.Net - On April 24-25, 2018, during the annual legislative commemorations of the Armenian Genocide, the Colorado House of Representatives and the State Senate unanimously passed a resolution that designates a major state highway in the Centennial State in honor of the heroic May 28, 1918 Sardarapat Battle that paved the way for the establishment of the independent Republic of Armenia.
"We applaud the Colorado legislature's establishment of the Sardarapat Armenian Memorial Highway ahead of the 100th anniversary of Armenian independence and congratulate our grassroots in Colorado for this newest coup of vibrant Armenian American activism in the Centennial State," remarked ANCA-Western Region chair Nora Hovsepian, Esq. "As we commemorate the 1.5 million victims of the Armenian Genocide, we also recall the survivors' great sacrifices to creating the independent Republic of Armenia that saved our ancient civilization from complete eradication. This permanent and unique memorial to the battle that saved the Armenian homeland makes the Sardarapat Armenian Memorial Highway a cause of celebration for Armenians across the world and especially in the Armenian Homeland," continued Hovsepian.
Championed by the Colorado House Assistant Minority Leader Cole Wist of Centennial and co-primed by fellow Representative Jeff Bridges and State Senators Dominick Moreno and Jack Tate, House Joint Resolution 18-1019 designates the four-mile portion of Arapahoe Road between Interstate 25 and Parker Road – which connects Centennial and Aurora, two cities with large Armenian American populations – as Sardarapat Armenian Memorial Highway "in honor of Armenian Genocide survivors' valiant contributions in creating the independent Republic of Armenia one hundred years ago."
Earlier, Rep. Wist broke the news of the upcoming highway resolution to the Armenian community of at the April 22 commemoration at the Colorado State Capitol Armenian Genocide Memorial Garden. U.S. Congressman Mike Coffman and Wyoming State Senator Anthony Bouchard were also speakers at the commemoration, and community member Andy Karsian was master of ceremonies.
The official unveiling of the Sardarapat Armenian Memorial Highway signs will take place later this spring.