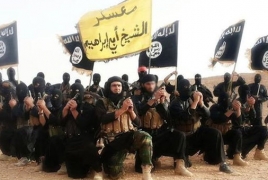 April 29, 2018 - 14:25 AMT
PanARMENIAN.Net - The Iraqi authorities have arrested an influential leader of the Islamic State (Daesh) group in the city of Mosul in the north of the country, local media reported Saturday, April 28 citing its sources.
The terrorist has been identified as Ebrahim Mesha'al Marei, and arrested due to the presence of precise intelligence information, the Baghdad Post newspaper reported, according to Sputnik International.
In addition, the media reported that an Daesh linked terrorist possessing a Kornet anti-tank guided missile was arrested in northern Baghdad.
Iraq has long been suffering from terrorist activities, including suicide attacks. In 2014, vast territories of the Middle Eastern state were occupied by the Daesh
The Iraqi army has successfully fought back against the IS over the past year. In December, Iraqi Prime Minister Haider Abadi declared an end to the country's fight against the Islamic State as Iraqi troops re-established complete control over the country's Syrian border.