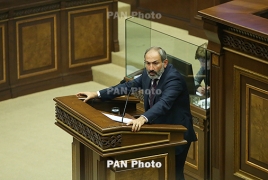 May 2, 2018 - 14:46 AMT
PanARMENIAN.Net - Nikol Pashinyan, leader of an Armenian protest movement locked in a standoff with the ruling elite, has said that his team will think and negotiate the issue of re-submitting his candidacy for the prime minister's job after the parliament failed to elect him as the country's new PM on Tuesday, May 1.
Pashinyan said on Wednesday that he and his supporters would not give up, and would continue their campaign of civil disobedience.
"My only power is my people. We are not going to give up," Pashinyan, dressed in his trademark camouflage T-shirt and cap, said at a protest in the Armenian capital. "We will continue our strike and disobedience."
Asked if he would re-submit his candidacy for the prime minister's job to parliament, after lawmakers rejected it on Tuesday, Pashinyan told Reuters: "We will think and negotiate."
If parliament fails for a second time to choose a prime minister, it will be dissolved and early elections called. Pashinyan said if that happened, one option for his movement would be to boycott the election.
"I can't tell you now, it will depend on the specific situation," he said.
The campaign against the Armenian authorities is in full swing across Yerevan and the rest of the republic on Wednesday after the parliament failed to elect opposition leader Nikol Pashinyan as the country's new prime minister.
All the streets, as well as the metro, the road to the airport and the country's railroad are currently blocked by groups of demonstrators.
Pashinyan, who has been leading the protests for several weeks now, needed more than half of all the votes - the support of 53 lawmakers - to secure the prime minister's spot, but got only 45.
A second vote will be held a week later, and the candidate needs to collect at least one third of the votes to win.
The founder and head of Civil Contract party and lawmaker from the Yelk bloc, Pashinyan leads a street campaign against the ruling authorities, which has seen thousands of Armenians taking to the streets in massive protests.
Former prime minister Serzh Sargsyan was forced to resign on April 23, and Pashinyan is now seeking the appointment as prime minister by the National Assembly of what he calls "the people's candidate", - i.e. himself - the formation of an interim government and snap parliamentary elections.
Pashinyan has promised to rid Armenia of corruption and poverty.