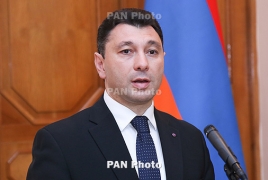 May 3, 2018 - 13:29 AMT
PanARMENIAN.Net - Spokesman for the Republican Party of Armenia Eduard Sharmazanov on Thursday, May 3 failed to explain the RPA's decision to support opposition leader Nikol Pashinyan's bid to become the country's next prime minister.
Pashinyan did not collect enough votes to secure the post as all the RPA lawmakers but one voted against his candidacy.
Sharmazanov on Thursday told reporters that Armenia will have a prime minister on May 8.
While his negative opinion about Pashinyan's candidacy hasn't changed, the MP expressed hope that the latter will dispel his doubts.
He also failed to reveal whether the party will be unanimous in the vote or not
Pashinyan, who has been leading massive protests against armenia's ruling elite for several weeks now, needed more than half of all the votes - the support of 53 lawmakers - to secure the prime minister's spot, but got only 45.
Former prime minister Serzh Sargsyan was forced to resign on April 23, and Pashinyan is now seeking the appointment as prime minister by the National Assembly of what he calls "the people's candidate", - i.e. himself - the formation of an interim government and snap parliamentary elections.
Pashinyan has promised to rid Armenia of corruption and poverty.