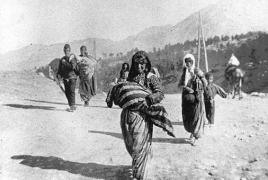 May 7, 2018 - 12:53 AMT
PanARMENIAN.Net - The annual Armenian Genocide commemorative event that the Istanbul branch of Turkey's Human Rights Association (IHD) and the European Grassroots Antiracist Movement (EGAM) planned to hold on April 24 -- which they have been holding every year since 2005 -- was blocked by police, who seized the placards and banners about the Genocide and carried out criminal record checks on participants. Three human rights activists were detained and then released, journalist Uzay Bulut's says in an article about Turkey's crackdown, published on the website of the Gatestone Institute.
In an interview, Ayşe Günaysu, an activist with the IHD's Commission Against Racism and Discrimination, said that "on their way to police station, the detainees were made to listen to racist songs containing hostile words concerning Armenians."
The annual event commemorates the April 24, 1915 round-up, imprisonment and eventual slaughter of more than 200 Armenian intellectuals and community leaders in Istanbul by Ottoman authorities -- and the unfolding of the Armenian Genocide. The victims were brought to a prison, now a building that houses the Museum of Turkish Islamic Art (Türk İslam Eserleri Müzesi). The Armenians were then taken to the Haydarpaşa railway station, where they were transported to Anatolia for their ultimate extermination.
Since 2010, the IHD has gathered at Haydarpaşa railway station for the commemoration. This year, there were plans to hold the event at the Sultanahmet square. Günaysu said:
"We do not ask for the permission of the office of the governor of Istanbul to commemorate the Genocide. We only call them on the phone and inform them of the hour and venue of the event. Our banners read 'Genocide! Recognize! Beg Forgiveness! Compensate!' in English and Turkish. The police told us we could hold the event on condition that we do not use the word 'genocide.' But we said we would not engage in self-censorship and gathered at the square of Sultanahmet to commemorate the Genocide victims. We had also prepared a genocide commemoration press release, but we could not read it out or distribute it to the press due to police intervention. The police also seized our banners and the photos of the Armenian intellectuals arrested on April 24, 1915."
According to Bulut, the lies and state propaganda, which hold the victims responsible for their own annihilation, are what enable the ongoing Turkish persecution of the country's remaining Armenians, including the conversion of their churches into mosques and the digging up of Armenian graves and churches by treasure-hunters who search for gold.
The Turkish government must stop, he says.