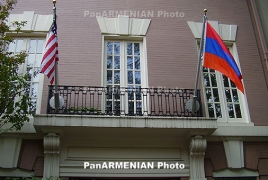 May 12, 2018 - 10:37 AMT
PanARMENIAN.Net - In the wake of Armenia's peaceful, constitutional political transition – a move broadly welcomed among Washington, DC policymakers as marking a new chapter in U.S.-Armenia relations – the Armenian National Committee of America (ANCA) has renewed its longstanding drive for a U.S.-Armenia Double Tax Treaty, a good-governance accord needed to break down artificial barriers to the growth of bilateral trade and investment.
The Republic of Armenia has expressed its willingness to start treaty talks on the basis of the 2016 "U.S. Model Income Tax Convention," a standard template used by many nations in reaching agreements with the United States. This model treaty prioritizes the transparent exchange of information, a hallmark of good governance and a statutory check, enforced by both parties, against attempted "non-taxation or reduced taxation through tax evasion or avoidance."
"We are encouraged by the result of our recent meetings with Administration officials and Congressional leaders, during which we stressed our strategic priority of strengthening U.S.-Armenia ties, with a strong focus on broad-based, sustainable economic cooperation," said ANCA Chairman Raffi Hamparian. "We look forward to continuing our work with stakeholders in Washington, DC and Yerevan to put this accord in place and also advance a broad array of other initiatives – in the economic, political and military arenas – aimed at broadening and deepening the longstanding friendship of the American and Armenian peoples."
In February of this year – in response to a Congressional letter spearheaded by Armenian Caucus Co-Chair David Valadao (R-CA) and senior Foreign Affairs Committee member Brad Sherman (D-CA), and signed by 31 U.S. Representatives – U.S. Secretary of Treasury Stephen Mnuchin pledged to devote Treasury Department staff resources to exploring a Double Tax Treaty with Armenia. These legislators stressed the urgency of renegotiating the existing, outdated Double Tax Treaty with Armenia, an obsolete Cold War-era accord – recognized today by the U.S. but not Armenia – that was negotiated with the now defunct U.S.S.R. more than four decades ago.
"American and Armenian businesses have close ties and it's time to end the double taxation currently imposed on businesses in both nations," explained Rep. Valadao. "By renegotiating our tax treaty with Armenia, we can continue to strengthen our relationship with a close ally while encouraging trade and investment in our great nations," he continued. "Modernizing our double tax treaty with Armenia is long overdue," explained Rep. Brad Sherman (D-CA), who pressed Secretary Mnuchin on the issue during a House Financial Services Committee hearing in February. "This is not only an opportunity to reaffirm our friendship with Armenia, but to also create new opportunities for investment and growth."