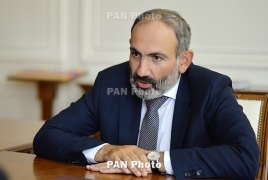 May 12, 2018 - 11:43 AMT
PanARMENIAN.Net - Armenia's foreign policy will remain unchanged after the political crisis is solved, newly-elected Prime Minister Nikol Pashinyan said in an interview with Russia-24.
"After the changes, Armenia's foreign policy strategy will not change," Pashinyan said, adding that protests in Armenia did not pursue foreign policy goals.
"The truth is there was no foreign policy agenda in our nation-wide movement. It was a purely internal political process, connected with domestic problems."
He stressed that he is not a pro-Western or a pro-Russian politician, nor does he relate himself to pro-American, pro-Iranian or pro-Georgian politicians.
Also, Pashinyan expects that relations between Yerevan and Moscow will change for the better.
"I understand that there are fears in Moscow, and I think that after our talks, these concerns will disappear and everything will change for the better in the Armenian-Russian relations."
Pashinyan was elected the Armenian Prime Minister on Tuesday, May 8, following weeks of protests and a campaign of civil disobedience that sought the resignation of the ruling authorities.
Former PM Serzh Sargsyan was ousted just one week after taking the post, while the National Assembly was left with virtually no choice but to elect Pashinyan as the country's next Premier.