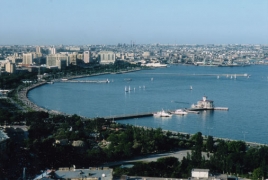 May 15, 2018 - 18:25 AMT
PanARMENIAN.Net - The border service of Azerbaijan denied entry to a Russian citizen who had survived the Siege of Leningrad due to her Armenian family name.
81-year-old Olga Barsegyan flew to Baku on the morning of May 13, but the border control of the Heydar Aliyev International Airport examined the passport, took the passenger aside and compiled an act of deportation, Fontanka reports.
Eleven hours after the arrival, the woman was sent back to Moscow.
Barsegyan was born in Leningrad, survived the blockade and is a veteran of the Great Patriotic War.
She currently lives in St. Petersburg.
This isn't the first case when Azerbaijan denies entry to people with Armenian surnames irrespective of their citizenship.
In 2013, a Russian journalist, Anna Sahakyan was not allowed to enter Azerbaijan, later being even declared a persona non grata for her Armenian family name.
At various points, Azerbaijan Airlines refused to transport people with Armenian surnames, citing an order from Baku as a reason behind such a decision.
In May 2016, an 8-year-old child with an Armenian surname was denied entry to Azerbaijan at Baku's Heydar Aliyev international airport.
A Russian citizen, M. V. Uyeldanov (Galustyan) was detained in Azerbaijan over his Armenian origin in July 2016.
An Estonian citizen of Armenian origin was held at the airport in the Azerbaijani capital city of Baku for 12 hours and sent back to Estonia in late March.