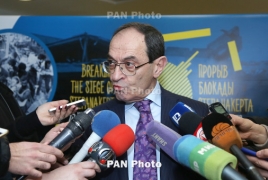 May 17, 2018 - 18:43 AMT
PanARMENIAN.Net - The main parties to the conflict in Nagorno Karabakh are Baku and Stepanakert, Deputy Foreign Minister of Armenia Shavarsh Kocharyan told reporters on Thursday, May 17.
"We (Armenia - Ed.) are a party to the conflict, we signed an agreement on the cessation of hostilities in 1994, which was prepared by the two sides - Artsakh and Azerbaijan. Armenia joined later when it (the agreement - Ed.) was ready," Kocharyan said.
It is obvious that the main parties to the conflict in Karabakh are Azerbaijan and Karabakh, the deputy foreign minister stressed.
Kocharyan also commented on the territorial claims of the Azerbaijani President Ilham Aliyev against Armenia, reminding that former Azeri leader Abulfaz Elchibey had said the same about Zangezur and Sevan, and that such statements are nothing new.
Speaking in Stepanakert, Armenian Prime Minister Nikol Pashinyan said Armenia is a party to the conflict. Former Defense Minister Vigen Sargsyan said in response that these words "can be dangerous."
Then first Armenian president Levon Ter-Petrosyan joined the dialogue to support Pashinyan.