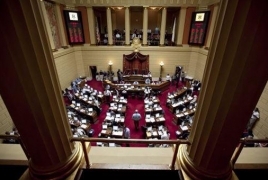 May 19, 2018 - 10:38 AMT
PanARMENIAN.Net - The House of Representatives of the U.S. state of Rhode Island on Thursday, May 17 unanimously passed a resolution on the 30th anniversary of the massacre of the Armenian population of Sumgait, the Artsakh (Nagorno Karabakh) foreign ministry said in a statement.
The resolution, in particular, states that the House commemorates the 30th anniversary of the tragic events in Sumgait and welcomes the aspiration of Artsakh to continue its democratic path and to develop as a trustful member of the international community of nations, despite the Azerbaijani aggression.
The document also states that the Secretary of State of Rhode Island is authorized to transmit certified copies of this resolution to the President of the United States, the Rhode Island Congressional Delegation, and the United States Department of State.
The tragic event, which commenced on the eve of February 28th, 1988, resulted in the death of 200 Armenian men, women, and children and is considered to be the start of the Karabakh War.
Azeris planned and orchestrated the brutal massacres which targeted Armenians solely for their heritage following their peaceful protest calling for historic Armenian lands to be liberated.