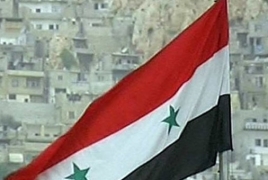 May 21, 2018 - 10:28 AMT
PanARMENIAN.Net - Depots with weapons produced in NATO member-states as well as underground explosive production facilities are being found by members of the Russian Center for Syrian reconciliation and Syrian government troops in the territories liberated from militant groups, Sputnik cited the center as saying on Monday, May 21.
According to the statement, the officers are also revealing underground tunnels that are equipped with medical complexes as well as detention facilities for civilians. Syrian sappers continue to de-mine settlements in the liberated areas.
"We are in the Zaafarana settlement in the province of Homs at an al-Nusra Front terror group [also known as Jabhat Fatah al Sham, outlawed in Russia] observation point. We can see here a large number of gas masks, weapons produced abroad, for example, TOW-2 anti-tank guided missiles. The facilities are very well-equipped," the center's representative Andrey Nekipelov said.
Russia, alongside Iran and Turkey, is a guarantor of the ceasefire regime in Syria. Moscow has also been assisting Damascus by supporting the struggle against the various terrorist groups and by providing humanitarian aid to residents of the crisis-torn country.