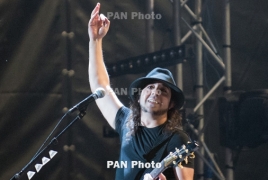 May 21, 2018 - 12:24 AMT
PanARMENIAN.Net - "System Of A Down" guitarist Daron Malakian says the band have never let anyone censor them while addressing important issues such as the Armenian Genocide.
In an interview with Armenian television personality Stepan Partamian, SOAD guitarist and "Scars on Broadway" frontman Daron Malakian said they always hear about how their forefathers had been killed, Blabbermouth.net says.
"We'd see pictures of our ancestors with their heads on top of each other. System has always talked about the genocide [of 1915] in our songs, but I wanted to take another approach and celebrate the people who survived the Genocide and the contributions that Armenians have made since then and give a song that's not necessarily about us being victims, but our existence in itself is victory," the musician said
Speaking about his 2006 Grammy Award for SOAD's "B.Y.O.B.", Daron said: "I'm proud of it. I'm more proud of the songs that I've written than the actual Grammy, but it's something you show your mother. She's proud. It's a nice thing to have sitting on your table at home."
"When System came out, our label Sony/Columbia Records, they weren't looking for a band to go out and talk about Armenian Genocide. I don't think that was the first on their list of things for a band they signed. But, we did it. We never let anybody censor us. We never let anybody tell us what we could or can't say and that's still the way I write and still the way I talk."
Malakian's latest singles, called "Lives", is meant to commemorate the Armenian Genocide and celebrate its survivors. In a recent interview, he said SOAD's concert in Armenia in 1915 "was a high point of my career as a musician. I think everyone in System of a Down feels that way. The show was great and really emotional for us."