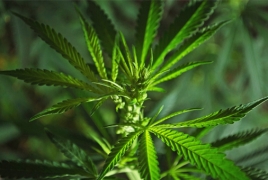 May 21, 2018 - 17:14 AMT
PanARMENIAN.Net - You can smoke it, vape it or bake it, and soon enough you'll be able to crack open a bottle and drink it.
Researchers and students at Loyalist College's Applied Research Centre for Natural Products and Medical Cannabis in Belleville, Ont., are brewing up a new kind of beer, replacing barley with cannabis, CBC.ca reports.
The college teamed up with Toronto-based company Province Brands of Canada, which makes alcohol-free beer and spirits from marijuana, and for now they're using hemp in research and product development.
But once cannabis becomes legal, they'll be able to work with the real thing.
Loyalist professor Kari Kramp told CBC Radio's Ontario Morning that researchers, students and engineers still have a lot of work to do to create a drinkable product.
And the pressure is on to do it quickly, she said.
"They're working through the recipe development right now. They've done a lot of work ahead of time looking specifically at the details of the process through design of experiment," she said, adding that there's a patent pending for the product.
"It's unique because there are some challenges that are different when you're working with hemp and marijuana than if you're working with traditional grains like barley," she said.
The project, which exists thanks to a grant from the Ontario government, aims to help Province Brands develop a beer it can sell in what's expected to become a big industry for cannabis products.