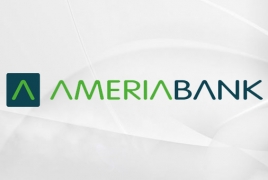 May 22, 2018 - 12:46 AMT
PanARMENIAN.Net - The Black Sea Trade and Development Bank (BSTDB) and Ameriabank have signed a $15 million five-year loan agreement to fuel the growth of Armenia'ssmall and medium-sized businesses (SME), the backbone of the country's economy.
Support for SME sector development is a common objective and key priority for both banks. The facility will help Ameriabank to offer the much needed long-term financing to Armenian SMEs to strengthen their growth, competitiveness and create new jobs in the country.
"Ameriabank is honored to continue developing its valuable partnership with BSTDB. This new agreement will help the bank to further strengthen its position in the SME lending market, and to magnify its contribution to the development of the country's economy", said Artak Hanesyan, CEO, Ameriabank.
"This is BSTDB's second SME facility to Ameriabank. We are happy to develop further our cooperation with this market leader in implementing our country strategy for Armenia aimed at increasing the Bank's support for the economy, SME sector in particular", commented Igor Leshukov, BSTDB Vice President Banking.
The first investment bank in Armenia, Ameriabank has been providing a large package of innovative banking services since 2007. Now Ameriabank CJSC is a universal bank offering corporate, investment and retail banking services in a comprehensive package of banking solutions. For more details, please visit www.ameriabank.am.
The Black Sea Trade and Development Bank (BSTDB) is an international financial institution established by Albania, Armenia, Azerbaijan, Bulgaria, Georgia, Greece, Moldova, Romania, Russia, Turkey, and Ukraine. The BSTDB headquarters are in Thessaloniki, Greece. BSTDB supports economic development and regional cooperation by providing loans, credit lines, equity and guarantees for projects and trade financing in the public and private sectors in its member countries.