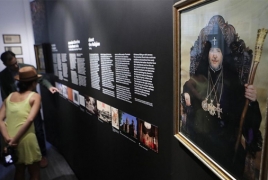 May 24, 2018 - 12:37 AMT
PanARMENIAN.Net - The Armenian community is opening a museum - the first in Asia - in Singapore to celebrate its presence in the southeastern Asian nation, The Straits Times reports.
Armenians are behind some of most commonly-used machines used today - including the automated teller machine and magnetic resonance imaging, or MRI. They were also pioneers in plastic surgery and colour television.
In Singapore, members of this diaspora include Catchick Moses who started The Straits Times in 1845, the Sarkies Brothers who founded Raffles Hotel in 1887, and Agnes Joaquim who in the late 1800s hybridised Singapore's national flower, the Vanda Miss Joaquim.
Now, the small but prolific community is spending $1.2 million in its first concerted effort to raise awareness about its presence and role in the Republic as one of its oldest communities.
It has built a museum at its Parsonage building in Hill Street and is in the midst of constructing a community centre there. It will also continue the ongoing restoration of the Armenian Church in the same Hill Street compound.
Pierre Hennes, 45, a trustee of the church, has said sometimes they get mistaken for Jews.
He said: "We want to share who we are with Singapore. Armenians have always punched above their weight although no more than 100 Armenian have ever lived in Singapore at the same time."
The Armenian museum is officially launching on Thursday, May 24 by National Heritage Board (NHB) chief executive Chang Hwee Nee and Bishop Haigazoun Najarian from the Diocese of the Armenian Church of Australia and New Zealand.
Artefacts on display include an intact British-made Doulton & Co mid-to-late 1800s glazed stoneware bottle found on a ledge in the church spire two years ago. There are also paintings of "Armenian Streets" across the globe.
The church in Singapore is the oldest Armenian church in South-east Asia.
The gallery opens to the public on an appointment basis from June 7. It will be opened to the public on a daily basis once the Community Centre is completed next year.