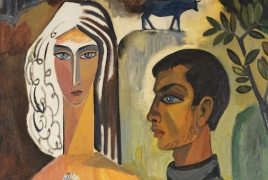 May 25, 2018 - 15:38 AMT
PanARMENIAN.Net - "Self-portrait with muse" by Armenian "golden age" artist Edmond Zakaryan will be on display at London's Bonhams New Bond Street Galleries until June 6 when it will be auctioned off as part of The Russian Sale.
Born in 1936 in Leninakan, Zakaryan belonged to a young generation of artists who marked a rapid development of Armenian painting the 1950s and 1960s.
Just like his contemporaries Minas Avetisian and Vruir Galstian, Zakaryan's significant input in the history of the Armenian "golden age" was made through the artist's reinterpretation and consequent revival of vibrant traditions of Armenian art.
"In Zakaryan's early works, the principles of primitivism combined with a distinctive subtle palette and particular treatment of form became somewhat of a manifesto of the artist's open expression and freedom of painting," reads a description in Bonhams Russian sale catalogue.
"A superb example of this period, Self Portrait with Muse, was exhibited in 1962 in an exhibition dedicated to works by young Leningrad artists and received harsh criticism for the artist's commitment to early 20th century avant-garde traditions and denial of ideologically enforced realistic methods which dominated the Soviet art scene at the time."