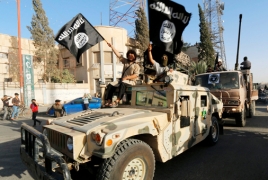 May 25, 2018 - 17:15 AMT
PanARMENIAN.Net - The Islamic State group (IS) launched a big attack against the Free Syrian Army (FSA) in southwestern Daraa on Friday, May 25, targeting the latter's positions in the Yarmouk Basin region, Al-Masdar News reports.
IS reportedly began their assault by storming the Free Syrian Army's defenses at the outskirts of Heit and Sheikh Sa'ad; this would result in a series of clashes that are still ongoing at the moment.
The group is allegedly attempting to breakout of southwest Daraa before the Syrian Army begins their long-awaited southern Syria offensive in the coming weeks.
At the same time, the Free Syrian Army's Al-'Umar Brigade reported that their forces had captured 22 Islamic State terrorists that were attempting to enter Daraa from the Al-Sweida Governorate.