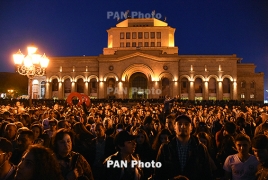 May 30, 2018 - 10:30 AMT
PanARMENIAN.Net - On this week's foreign policy radio broadcast, Talk Media News looks back on April's home-grown political revolution in Armenia, considering how it succeeded, what comes next and the precedent it sets.
The article reads:
The year 2018 didn't begin well for Armenia, explains Richard Giragosian, director the Regional Studies Center, an independent think tank in the country.
He paints a bleak portrait: "Armenia lives in a tough neighborhood. It's crime-ridden, it's impoverished, it's the ghetto of the former Soviet Union … We saw over a decade of entrenched political dominance by one ruling party … entrenched poverty, mounting disparities of wealth and income, little signs of any real breakthrough in democracy or reform."
Anahit Shirinyan, an academy associate at Chatham House, was in the Armenian capital of Yerevan when former Prime Minister Serzh Sargsyan stepped down, and says April's protests were the culmination of years of simmering anti-government tensions.
"This is not the first time that Armenians have taken to the streets to protest – to file their grievances against their government," she explains. Protests have accompanied elections since 1996, but they have evolved in recent years to encompass a range of other political grievances, drawing more participants to the streets.
What's next for Armenia?
A tough road, Giragosian says, in which the country will have to "try to play a weak hand a little bit better."
"We're now in a more difficult stage of governance," Giragosian explains. "The real problem here is the old guard."
Politically, Prime Minister Nikol Pashinyan needs to consolidate enough power to force new elections and fill up the parliament with his supporters. That won't be easy, since the outgoing former Republican Party still holds the majority of seats in parliament, and those legislators will do everything they can to maintain the status quo.
Pashinyan's economic challenges are equally daunting, as he confronts entrenched oligarchs in a bid to open up Armenia's economy to the world.
"Clearly, economic liberalization is going to be an important focus of reforms," Shirinyan says, noting that an "entrenched oligarchic system" loaded with monopolies has prevented the formation of an economic "level playing field."
"Of course the geography still makes many of the economic opportunities limited, but Armenia hasn't actually so far tried to have a truly liberal economy in order for us to be able to gauge how well can this economy in reality perform in the current geopolitical and geographical circumstances."
Landlocked Armenia is further isolated from regional and global commerce thanks to closed borders with Turkey to the west and Azerbaijan to the east. That means Armenia's export-oriented economy is unlikely to flourish. But the country's tech sector is booming and capable of breaching those geographical constraints by linking up Armenia's 3 million citizens with a diaspora population estimated to be three times as large.
"It's one of the fastest-growing sectors of the economy, where open borders matter much less," Giragosian says. "Moreover, much of the agent of change in the demonstrations were the new generation of youth, some of which are real drivers and innovators in the country's IT sector."
But perhaps the best thing for Armenia, Giragosian says, is if outside economic support is tied to specific domestic reforms, thereby preserving and building on the accomplishments of the revolution
"I think the International Monetary Fund, the World Bank, the European Union have an important role to play in crafting an approach called 'conditionality,' where financial support for the government will be directly linked or tied to specific outcomes and achievements in reform. That way there's less of a danger for backsliding."
And if that conditional support for Armenia succeeds in transforming a once-stagnant post-Soviet state into a dynamic and democratic one, Giragosian says the model set by Armenia's revolution could be profound.
"This is a wake-up call. This is a scary message for neighboring Turkey, neighboring Azerbaijan – the more autocratic, authoritarian states whose corrupt, entrenched elites may be under much of a degree of defensive paranoia."