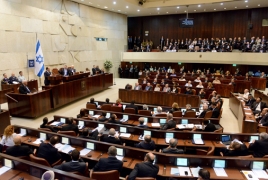 June 2, 2018 - 12:44 AMT
PanARMENIAN.Net - Speaker of the Israeli Knesset Yuli Edelstein has said that the issue of the recognition of the Armenian Genocide will be brought to a plenary voting when the Knesset secures a majority for recognition.
Edelstein's comments came in response to a letter by Archbishop Nourhan Manougian, the Armenian Patriarch of Jerusalem, in which the Patriach expressed deep disappointment over media reports that the Speaker has pulled the Genocide issue from this week's Knesset agenda.
"I regret that incorrect publications caused your disappointment. The discussion about the recognition of the Armenian Genocide was not scheduled for this week at all, so it was not pulled of the agenda. I did not remove the item from the agenda, not by insinuation and not in fact," Edelstein said.
"I do not take one word back of what I said on the subject.
"I remain true to what I have said in the past years over and over again: the Israeli Knesset must recognize the Armenian Genocide because it is the right and moral thing to do- and not because of political or momentary diplomatic interests. I hope that I have reassured you.
"The moment we are convinced the Knesset will have a majority for recognition, we will bring it to a plenary voting.
"I will therefore do everything that is in my ability, and I hope that my efforts will bear fruits."
The Knesset is still set to hold a vote on whether to recognize the Armenian Genocide, after approving Meretz chairwoman Tamar Zandberg's motion to include the issue in the agenda May 23