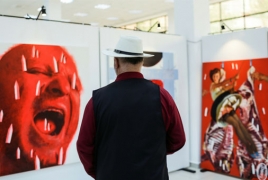 June 4, 2018 - 19:58 AMT
PanARMENIAN.Net - A revolution, the centenary of the founding of the first Armenian Republic and the inauguration of the debut Armenia Art Fair – May 2018 was a historic month for Armenia, Harper's Bazaar Arabia says in an article.
Having taken place at Yerevan Expo between 11 and 14 May, Armenia Art Fair served as a market and exhibition space to present modern and contemporary art from the Caucasus, Middle East, Black Sea Region, UK and Europe to a predominantly local audience.
"Our goal with the fair is to transform Armenia into one of the main regional hub for the arts, making local artists international, and international artists local," explains Nina Festekjian, who co-founded the fair with Zara Ouzounian-Halpin. The fair's curator Eva Khachatryan adds, "The first international art fair in Armenia will give an impetus for the Armenian art scene to demonstrate the financial potential for this market."
Produced by a team of women, communicating in three languages – translating for each other when one did not understand what the other was saying – the fair's success was due in part to being greatly championed by the worldwide Armenian diaspora, in a joint effort with those in Armenia to create the foundations of a contemporary art scene in the country, the article says.
Amongst the 19 exhibitors, half were from Armenia, with booths comprising galleries, curators and dealers, resulting in a diverse array of works on display in Yerevan. The combination of established galleries with emerging and unaffiliated curators meant that those who would not normally have the opportunity to exhibit at an art fair were represented in Armenia. Of the most noteworthy displays was the presence of Lebanon-based Art Residence Aley, a residency programme that provides Syrian refugee artists with the space and materials to make art. During the fair, three artists, Farah Azrak, Adel Dauood and Hasko Hasko, were present to educate visitors about their work. Many other artists were also at the fair including Dutch mirror-artist Philippine Vinke – represented by Dubai-based online gallery Du Arte – and Belarusian painter Oleg Kostyuchenko, whose painting Flashback (2016, oil on canvas, 180x120cm) – where a lady swings on a tire in front of a hanging carcass of meat – was used in the fair's promotional material.
"Amongst the Armenian exhibitors, Vahram Galstyan's Instinct & Intelligence (2016, clay, wood, knauf, fabric, coloured liquid, 100x450x80cm), presented by Karoyan Gallery, captured much attention in its composition of a long white table dripped in plaster, in which floating clay heads rested in electric blue liquid. Another noteworthy work came in the form of a daring performance – considering recent Armenian politics – titled Presidential Suite. Spearheaded by Samvel Saghatelian, the artist and a handful of fellow actors roamed around the exhibition space, covering their faces with the masks of Armenian political figures, including the recently rejected Prime Minister Serzh Sargysyan and Nikol Pashinyan, who had been elected just three days before the fair's opening," the article says.
"A notable 700 guests and 2,000 visitors attended the fair, with 10 works sold to private buyers – a great success for a country with little next to no pre-established art market. In addition to its main function as a selling place for art, Armenia Art Fair also provided a platform for emerging artists to exhibit their work. On the lower level of Yerevan Expo, Open Space consisted of a cluster of exhibitions of art fabricated in the last 30 years by millennial artists. Curated by Eva Khachatryan, the central display comprised experimental films screened on 1990s style box televisions. An emphasis on young talent was also highlighted in collaboration between Armenia Art Fair and Hayp Pop Up Gallery through an exhibition titled The Leather Show. Taking place in a run-down building adjacent to the fair, the display presented the work of Narek Barseghyan, who was influenced both by 1990s pop culture and the post-Soviet millennial experience in Armenia. The resulting work appeared in the form of large-scale canvases populated with blue and pink characters in white t-shirts, black jackets and a mixture of Armenian, Russian and English text."
Armenia Art Fair succeeded where many fairs fail: in providing an arena not only for established artists, but also in paving the way for emerging ones. There were even a number panel talks offering an educational thread. "I think art reflects the situation in the country," explains Belarusian curator Nata Sokolowska, shining light on the timing of the fair. "The fact that the revolution in Armenia coincided with the first art festival is not an accident. Armenia is ready for changes in all directions and for further development." So, after the success of its debut, what's on the agenda for the second edition of Armenia Art Fair? Co-founder Zara Ouzounian-Halpin explains, "I hope that next year we can showcase more young, interesting art from the region."