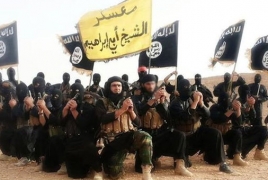 June 5, 2018 - 13:23 AMT
PanARMENIAN.Net - The Islamic State (IS) launched a big assault against the Free Syrian Army (FSA) troops in western Dara'a n Monday, June 4, Al-Masdar news reports.
Led by their southern Syria affiliate, Jaysh Khaled bin Walid, the Islamic State managed to capture at least two points from the Free Syrian Army, while claiming to kill several of their members.
In response, pro-FSA activists reported that rebel reinforcements arrived to the town of Heit, where they began to counter the terrorist group in a bid to reclaim their lost territory.
These latest attacks by both the FSA and IS have proven costly, as they both brace for a large-scale offensive from the Syrian Arab Army (SAA) in both Dara'a and Al-Quneitra.
While IS is currently away from the Syrian Army's lines, this could ultimately change after their offensive in southern Al-Quneitra.