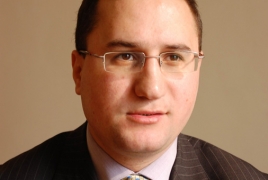 June 5, 2018 - 15:34 AMT
PanARMENIAN.Net - Recognition of the crime of genocide is a process of supremacy of the world values and the re-establishment of human rights, Armenian Foreign Ministry spokesman Tigran Balayan told reporters on Tuesday, June 5.
The process, he said, is intended to prevent the recurrence of such crimes, regardless of any internal political context and geopolitical developments.
Balayan's comments come amid uncertainties in the Israeli Knesset, which recently decided to vote on the recognition of the Armenian Genocide. No precise date is available for now.
According to Balayan, the process is among Armenia's key priorities, and Yerevan will continue leading international efforts to prevent and condemn genocides.
The spokesman added that resolutions adopted by dozens of countries and international organizations prove that the process of the recognition of the Armenian Genocide is irreversible.
On April 24, Armenians worldwide commemorated the 103rd anniversary of the Genocide which began in the Ottoman Empire in 1915 and continued until 1923. Some three dozen countries, hundreds of local government bodies and international organizations have so far recognized the killings of 1.5 million Armenians in the Ottoman Empire as Genocide. Turkey denies to this day.