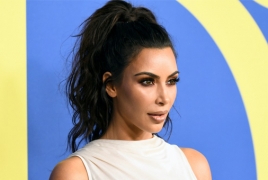 June 12, 2018 - 14:28 AMT
PanARMENIAN.Net - Kim Kardashian West along with her hairstylist and makeup artist, Lady Gaga's makeup artist and actresses Madelaine Petsch and Holland Roden are slated to speak at the Beautycon LA festival in July, Billboard says.
Beautycon has grown in leaps and bounds from the small YouTuber-exclusive beauty networking event it started as in 2011.
Since Moj Mahdara took over as CEO of the event in 2015, it has transformed into a multi-city festival that draws celebs, makeup artists, digital influencers and fans of all ages looking to discover the latest beauty products and trends.
Last year, a crowd of 15,000 showed up for the two-day L.A. festival and more than 22,000 people are expected to attend next month's event, set to feature well over 100 beauty brands, including newcomers Charlotte Tilbury and Kylie Cosmetics. To accommodate the rush, the space has expanded an extra 100,000 square feet.
Landing Saturday, July 14, and Sunday, July 15, at the Los Angeles Convention Center, Beautycon L.A. will feature Kim Kardashian West as the keynote speaker— a follow-up to April's Beautycon New York that starred Laverne Cox and Paris Hilton among its string of A-list speakers. Other notables on the L.A. speaker panels so far (15 more major names will be released in the next 10 days) are the Armenian-American star's makeup artist Mario Dedivanovic and hairstylist Chris Appleton, makeup artist Joyce Bonelli who tends to the Kardashian-Jenners plus Emma Roberts and Salma Hayek, Riverdale star Madelaine Petsch, Teen Wolf actress Holland Roden, Life of Kylie star Jordyn Woods, Lady Gaga's makeup artist Sarah Nicole Tanno, and Tokyo Stylez, known for making swank wigs for Nicki Minaj, Cardi B and Kylie Jenner. Stylish L.A. twin sister DJ duo Simi and Haze will serve as the first-ever Beautycon creative directors, assisting in the design of the main stage and the Halo Room, which boasts an art installation and a stage for photo/video shoots.
"At our New York show, Zendaya had a discussion about colorism and the degree of darkness that constitutes someone who is African American and what is or isn't acceptable to Hollywood," says Mahdara in an exclusive phone conversation with THR. "We're so proud that these types of conversations are taking place at an event that we've worked really hard to create and we're grateful that talent rises to the occasion to talk about intense topics that are beyond the cosmetic industry. In L.A., we expect to have discussions around entrepreneurship, gender fluidity, mind and body, and a panel on redefining masculinity that I'm really excited about."
"It's also our first year to offer 'B-well,' which is an area of 20 to 30 brands showcasing supplements and nutritional items focused on well-being, and 'K-town,' because Korean beauty is a billion-dollar industry globally, with $996 million funneled into the U.S. and our market is super-duper interested in international products," Mahdara continues. "Our other goal is to build the ultimate retail experiential pop-up in the beauty market. The numbers we're seeing on the consumer spend are mind-blowing. People come to Beautycon to shop!"