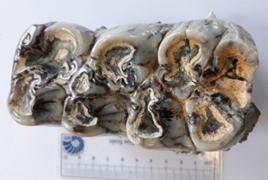 June 12, 2018 - 16:31 AMT
PanARMENIAN.Net - Two Quaternary Period fossils of elephant teeth, as old as two million years, were discovered in Ardebil Province, northwestern Iran, said the head of Natural History and Genetic Resources Bureau of Ardebil Province, according to IRNA.
"The priority of such studies is to find the birth place and habitats of elephants," said Tahereh Eftekhari.
Studying the fossils opens a new season for introducing vertebrate fossils, especially those of elephants in Iran, she said.
One of the fossils, belongs to a male elephant and the other belongs to a female one, said Zahra Orak, the head of paleontology department at Natural History and Genetic Resources Bureau.
Based on the size of the teeth, it is speculated that elephants had been adult, she said, adding that one of them resembles the teeth of Indian elephants.
Indian elephants may have inhabited in Iran some 2 million years ago, she speculated.
The fossils are so unique and intact that no such Quaternary fossils have been previously discovered in Iran, Orak said.