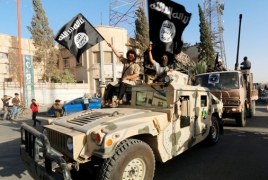 June 14, 2018 - 11:03 AMT
PanARMENIAN.Net - The Islamic State (IS) has been mass executing their own members after several battlefield woes in both Syria and Iraq, Qutri Al-Obeidi, the leader of the Popular Mobilization Units (Hashd Al-Sha'abi) in Al-Anbar, said on Wednesday, June 13, according to Al-Maalomah website.
"Hegeen region, which is 40 kilometers away from Qaim town, west of Anbar, saw the biggest mass executions among the Islamic State militants after the leaders killed around 90 members and threw their bodies in Euphrates River, as they were reluctant about the defense battles against Syrian army, which carries out operations to liberate regions near the borders," Obeidi stated, as quoted by Iraq News.
The IS leaders in Syria "are in conflict with one another after being besieged and the Iraqi jets shelled regions in Syria," Obeidi added, according to Al-Masdar News.
The group leaders, according to Obeidi, "urged the militants to attend the execution and witness throwing their bodies in the river."
IS has lost a great deal of territory at the hands of the Syrian Arab Army (SAA) and US-backed Syrian Democratic Forces (SDF) recently, forcing them to seek refuge in Syria's desert region.