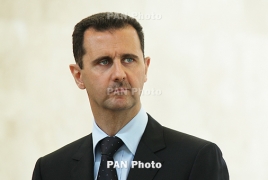 June 14, 2018 - 16:00 AMT
PanARMENIAN.Net - In an interview with the al-Alam News Network on Wednesday, June 13 President Bashar Al-Assad underscored his country's full support for "any act of resistance, whether against terrorists or against occupying forces regardless of their nationality."
President Al-Assad has described the US, French, Turkish and Israeli troops present in his country as "occupying forces."
Mentioning the presence of fighters of the Lebanese Hezbollah movement in his country, President Assad said that "the battle is long and the need for these military forces will continue for a long time."
He added that even though Iran has no military bases in Syria, Damascus is ready to let them in if necessary, Sputnik says.
In an earlier interview with the Daily Mail, President Assad accused the West of attempts to oust his government.
"We are fighting the terrorists, and those terrorists are supported by the British government, the French government, the Americans and their puppets whether in Europe or in our region," Assad said.
"They tell lies, they talk about chemical weapons, they talk about the bad president killing the good people, freedom, peaceful demonstrations," he added.
Invited by Damascus, Iranian military advisors are on the ground in Syria helping the government forces win the war, while Hezbollah units have been helping flush out terrorists in areas along Syria's border with Lebanon.