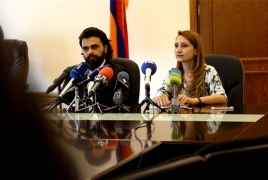 June 16, 2018 - 10:56 AMT
PanARMENIAN.Net - The Ministry of Culture of the Republic of Armenia and the arts foundation Creative Armenia on Friday, June 15 entered into a public-private partnership to rejuvenate the arts, build creative industries, incubate creative careers and projects, and develop and realize strategies toward cultural acceleration and promotion.
To that end, the arts foundation and the Ministry will develop joint strategies and programming in a number of directions - with an emphasis on cultural innovation, social impact, and the development of "creative industries" in Armenia. The memorandum, which was signed by Minister of Culture Lilit Makunts and Creative Armenia founding director Garin Hovannisian consists of 9 directions, including the following:
- The cultivation of new strategies and methodologies toward developing "creative industries" in Armenia.
- The development of strategic programs that will bring Armenian talent to the global stage and marketplace.
- The acceleration of creative careers and projects by offering a toolkit of support, including funding, business and tech advisory, production support, and marketing strategies.
Creative Armenia and the Ministry also announced that their first joint program, an innovative "accelerator" program for creative projects, is already in development.
"Why Creative Armenia? Because here are people whose track record, professional achievements, and also human values are undeniable," the Minister said. "I am certain in the success of this partnership. And we already have charted our initial strategies and plans, which go into action as of today."
"A new Armenia means also new hope and new opportunities," Hovannisian added. "We are honored to enter into a public-private partnership that will develop - and realize - the strategies of a cultural awakening."
Founded in Yerevan and Los Angeles in 2017, Creative Armenia is a global arts foundation for the Armenian people, with a founding board including Serj Tankian, Eric Esrailian,