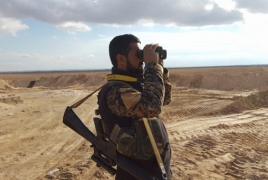 June 18, 2018 - 17:40 AMT
PanARMENIAN.Net - The Syrian military reported on Monday, June 18 morning that their troops had been attacked by U.S. Coalition warplanes in southeast Syria.
In response to these allegations, the Pentagon released a statement denying that the U.S. forces had anything to do with the attack.
The Syrian military claims the attack was carried out by attack drones that came from the direction of the U.S. lines.
As a result of the attack, dozens of personnel from the Syrian Arab Army (SAA), National Defense Forces (NDF), and Iraqi paramilitary troops were killed or wounded near the town of Al-Harri, which is in the Albukamal countryside.
This is the second time in three weeks that the Syrian Army has accused the U.S. Coalition of bombing their troops in southeast Syria.
The Syrian army has not responded to the attack and will not likely attack the U.S.-backed forces in the region, as this would only escalate the situation and lead to violent confrontation.
Furthermore, it is not necessarily clear that the U.S. Coalition carried out the attack, a some pro-government activists have accused the Israeli Air Force of carrying out the airstrikes.
Albukamal is a long distance from the Israeli border, but it would be a viable target for their military, given the large presence of Iranian-backed forces near the Iraqi-Syrian border.
Israel has also never attacked the Syrian military this far from their border, so if they were behind this – this would be the first time they have every bombed the Deir ez-Zor Governorate.
Although Israeli Prime Minister Benjamin Netanyahu did vow to attack the Iranian-backed forces anywhere inside Syria during his weekly cabinet meeting.
This is a threat that he and his Defense Minister Avigdor Lieberman have made on several occasions in the past.