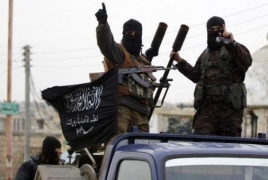 June 18, 2018 - 18:48 AMT
PanARMENIAN.Net - Militants of Hay'at Tahrir Al-Sham launched a small-scale attack on Monday, June 18 that targeted the Syrian Arab Army's (SAA) positions near the Golan Heights, Al-Masdar News reports.
Hay'at Tahrir Al-Sham reportedly began the attack by attempting to sneak behind the Syrian Arab Army's lines at Jiba and Tal Kroum from their positions at Umm Batna.
The goal of the attack was to ambush the Syrian army's front-line troops near the Umm Batna axis.
However, the jihadist rebels were spotted before they could position themselves for the ambush in eastern Al-Quneitra.
When the Syrian army spotted the jihadist rebels, they quickly attacked in a bid to eliminate the group of Hay'at Tahrir Al-Sham fighters.
A fierce battle would ensue for nearly four hours near Tal Kroum and would result in most of the jihadist rebels being killed or wounded.
According to a military source in Al-Quneitra, the Syrian Army killed at least one member of Hay'at Tahrir Al-Sham and wounded another seven others.
In addition to the casualties, the Syrian Army reported that they destroyed one technical vehicle that was used by the jihadist rebels during the attack.
This latest attack by the jihadist rebels comes just days after the Syrian Arab Army's elite 42nd Brigade of the 4th Mechanized Division arrived in Al-Quneitra for their upcoming offensive.
The Syrian military is reportedly in position to launch the offensive in Al-Quneitra; however, they are awaiting the green light from their high command and their Russian advisors.
A reconciliation team attempted to convince the rebels in Al-Quneitra to end the hostilities and reconcile with the government; however, this ultimately failed after several days of talks with the opposition groups.
With the rebels unwilling to reconcile, the Syrian Arab Army will attempt to retake the provincial capital of Al-Quneitra and the Jabatha Al-Khashab area.