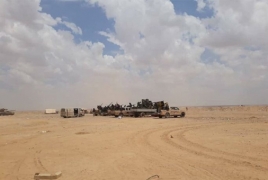 June 19, 2018 - 10:03 AMT
PanARMENIAN.Net - The Syrian Arab Army (SAA) has liberated an Iraqi border region in southeast Syria on Tuesday, June 19, following a fierce battle against the Islamic State (IS) group, Al-Masdar News reports.
Backed by the National Defense Forces (NDF) and Hezbollah, the Syrian Arab Army was able to completely overwhelm the remaining Islamic State terrorists south of the Humaymah area.
With IS struggling to hold ground, the Syrian army and their allies managed to liberate the Bir Tayyarah and Bir Umm Salabikh regions.
Following the liberation of these areas in southern Deir ez-Zor, the Syrian army and their allies finally cracked the last Islamic State defenses to reach the Iraqi border.
Once they reached there, the Syrian army and their allies were greeted by Iraq's Hashd Al-Sha'abi (Popular Mobilization Units).
In addition to reaching the Iraqi border, the Syrian Army and their allies also managed to reach the eastern part of the Tanf region's Green Zone.
This part of the Green Zone is controlled by the U.S. Coalition forces and has been since they constructed their base in this region in 2016.
For the Syrian Arab Army this is a major victory over the Islamic State, as the latter constantly launched hit-and-run attacks on their forces from this region.
Furthermore, the Syrian army has been able to finally secure the strategic Humaymah area and T-2 Pumping Station.
These two sites in rural Deir ez-Zor had been contested since Syrian forces recaptured them from the Islamic State last year.
Below are two photos of the Syrian troops meeting up with Hashd Al-Sha'abi on the Iraqi border: