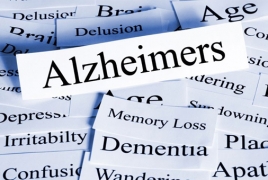 June 20, 2018 - 13:28 AMT
PanARMENIAN.Net - A landmark Irish study has shown a diet supplement of simple nutritional elements found in foods such as trout, broccoli and peppers can critically help slow the onset of Alzheimer's Disease, the Irish Independent reports.
The study, by scientists at Waterford Institute of Technology (WIT) in conjunction with experts from Cambridge University, has been hailed by one researcher as "one of the most important medical advancements of the century."
It now offers hope of the development of a simple diet supplement which can delay the effects of the disease.
The discovery was made by experts at the Nutritional Research Centre which is based at the School of Health Science in WIT.
Its results have now been published in the 'Journal of Alzheimer's Disease'.
The 18-month study examined the effect of nutritional compounds - found in common foods such as trout, broccoli and peppers - on people with the dementia condition.
Pioneered by respected Cambridge University academic Dr Alan Howard, who invented the innovative Cambridge Diet, the trial studied people diagnosed with AD from a mild to advanced stage.
The trial was conducted with the support of University Hospital Waterford (UHW) and involved two different formulas, one comprised of macular carotenoids and the other a similar compound but with a specially designed fish oil.
Researchers identified that patients receiving the formula containing fish oil maintained cognitive abilities and quality of life – far beyond those taking macular carotenoids alone.
Those who received the compound including the special fish oil were found to have overwhelmingly positive outcomes ranging from functional benefits in memory, sight and even mood.
Dr Howard, who is founder and Chair of the Howard Foundation, said it was a hugely exciting discovery.
"This represents one of the most important medical advancements of the century. Alzheimer's disease is the largest public health crisis we face and drug companies have so far fallen at every hurdle in finding a solution," he said.
"This study gives us that breakthrough, in a unique natural compound of nutrients."
The WIT study was led by Professor John Nolan.
"Our previous work confirmed that carotenoids are found in the eye and that enrichment of these essential nutrients with nutritional supplements can improve visual function," he said.
"However, their high concentration in the healthy human brain also suggests a role for these nutrients in cognition."
"We know from several large population-based studies that nutrition is a key factor in the development of Alzheimer's disease, but attempts to identify an exact combination of nutrients that can positively impact on brain health have failed - until now.
"This work identifies a unique way to enhance the localised nutrients of the brain. Given our growing and ageing population and, importantly, that we live in a time where the nutritional value of foods continues to decline, I believe this is a valuable discovery that will challenge perceptions worldwide about the role of nutrition on brain function."