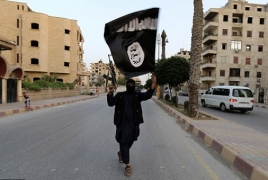 June 21, 2018 - 15:34 AMT
PanARMENIAN.Net - The Islamic State's (IS) reign over eastern Al-Sweida is nearing its end, as Syrian troops liberate many areas occupied by the terrorist forces, Al-Masdar News reports.
Backed by their allies from the Syrian Social Nationalist Party (SSNP) and National Defense Forces (NDF), the Syrian army scored another major advance in the Badiya Al-Sham region of Al-Sweida last night.
The Syrian Arab Army and their allies managed to liberate a dozen towns and hills that were occupied by the Islamic State for nearly four years.
Among the areas liberated by the Syrian army and their allies over the last week were the following towns and hilltops: Tal Tulaywat, Tal Layla, Tal Ajar, Tal Khunayfas, Tal Aqas, Tal Ali, Tal Al-Khayl, Tal Umm Janbiris, Khirbat Ambashi, Khirbat Habiriyah, Mushayrifah, and Tal Marar.
As a result of the massive advance, the Syrian army has liberated over 650 square kilometers of territory from the Islamic State terrorists.
The Syrian army still needs to liberate over 1,000 square kilometers in order to fully clear the Islamic State's remaining pocket in the eastern countryside of Al-Sweida.
Once the large Islamic State pocket is cleared, the Syrian Arab Army will have full control of the Al-Sweida Governorate for the first time in years.