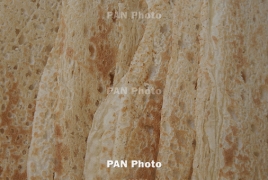 June 21, 2018 - 17:07 AMT
PanARMENIAN.Net - The arts are alive and well and what's happening at this year's Smithsonian Folklife Festival on the National Mall. This annual feast for the senses promises eye-popping colorful artwork, a variety of music and appetizing food centered around two core programs: Armenia and Catalonia, Fredericksburg.com reports.
"Armenia: Creating Home" offers a glimpse into the culture of this small country between Asia and Europe, where prehistoric petroglyphs, early Christian churches and the skeletons of Soviet-era factories abound in a rugged land.
This is a chance to taste Armenian flatbreads (lavash), cheeses and barbecued meats (khorovats) and to toast with Armenian wines. A 6,100-year-old winery—perhaps the oldest winery in the world—has been discovered in a cave in Armenia and winemakers will share about the cultivation of ancient varieties and aging wine in traditional clay pots (karas).
Craft demonstrations are one of the key events at the annual festival. Catalan craftspeople working in tile and stone will show "how-to" techniques for arranging mosaics (trencadís) with broken tiles and pottery, while Armenian craftsmen will demonstrate a variety of arts, from calligraphy to ceramics to what can be done with blacksmithing.
The Handes! Armenian Dance Summit is the chance to join in and share techniques, choreography, music and experience with this Armenian company.
All eyes will be looking up at the big heads at "Catalonia: Tradition and Creativity from the Mediterranean." These capgrossos are playful parody figures that come out for festivals and parades. They will be accompanied by giants (gegants) or taller representations of respected individuals built out of a material similar to papier-mâché called cartó pedra. There will also be bestirios, or animal heads, and diables, or devils. Each afternoon will feature a combination of these fantastical creations in parades.
Even higher than the big heads are human towers called castells with more than 300 people planned to create one in the last three days of the festival.
And if that were not enough, the July 4 parade will include "Beasts, Big Heads, Giants, Human Towers & More," from 5-6 p.m.
There is so much more to say about the festival, whose purpose is about how creative heritages of arts and crafts, music and food, bring economic and social values to their communities, enrich the social life and can be shared with others.
This theme is summed up in an evening concert on July 7, which will start with Armenian folk music and will finish with two Catalan performances from Cobla Catalana del Sons Essencials and Joan Garriga i el Mariatxi Galàctic, with fireworks following.
Folkways is not only about bring other cultural experiences to the American public, but about sharing your own. In addition to the two core programs, the Smithsonian Folk Festival will feature Roadwork: Sisterfire, the D.C.-based multiracial coalition, now celebrating its 40th anniversary of putting female artists on the road around the world in concerts and festivals.
Daytime events will include poetry, spoken works and activist reflections on women's cultures past and future.
If this is not enough, there will be "Crafts of African Fashion" with demonstrations in the Marketplace.