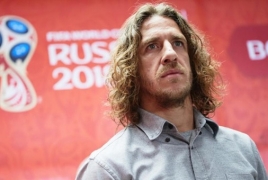 June 25, 2018 - 14:16 AMT
PanARMENIAN.Net - As anyone who has watched soccer World Cups over the decades, footballers' haircuts have been the source of intense commentary and, largely, ridicule. Indeed, at this year's competition in Russia, Brazil forward Neymar came under the social media spotlight for a sporting dyed blonde locks likened to a "bowl of pasta."
But rarely has a hairdo seen a footballer actually banned from television, something Spanish soccer star Carles Puyol can now add to his impressive list of achievements.
The former Spain defender and Barcelona captain – whose trademark long curly hair was for years a commanding presence for his World Cup-winning national team – had travelled to Tehran, having been booked to appear on in a special program on Iran's IRTV 3 for the Iran-Spain match on June 20, The Hollywood Reporter said.
But he never appeared, with host Adel telling viewers before the match: "You must be aware that Carles Puyol was scheduled to be with us tonight. However, he is in his hotel right now. I did everything I could but it didn't happen. I apologize."
Despite initial reports that Puyol's absence was over his fee, news website Entekhab quoted Puyol in saying that had been told by state broadcaster that he could not appear on air "because if his looks (long hair)."
Although Iran doesn't have an official policy when it comes to the length of male hair, the Iranian Football Federation's code of conduct states that players shouldn't have haircuts that help "spread foreign culture," while state TV has strict rules about broadcasting anything thought of by the conservative establishment as unconvential or un-Islamic.