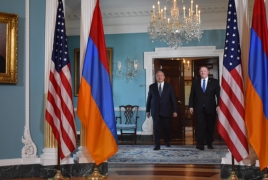 June 30, 2018 - 12:01 AMT
PanARMENIAN.Net - On the last day of his working visit to Washington DC, President Armen Sarkissian on Friday, June 29 met the U.S. Secretary of State Mike Pompeo.
In the course of a conversation in a warm atmosphere, President Sarkissian stressed the development of the Armenian-American ties and conveyed to Pompeo "new Armenia's" readiness to continue bolstering relations with the United States, the President's office said.
Sarkissian also held a meeting with the leaders of the Armenian National Committee of America (ANCA).
Earlier, the President attended the opening of the Smithsonian Folklife Festival, which this year is celebrating Armenian and Catalonian culture.
Sarkissian reaffirmed Armenia's abiding partnership with the United States - pledging the continued expansion of bilateral ties - during a powerful keynote address Tuesday, June 26 before a capacity Capitol Hill crowd celebrating the 100th anniversary of the first Armenian Republic, organized by the Armenian Revolutionary Federation, Armenian National Committee of America (ANCA) and the Embassy of Armenia.
"The 21st century, is going to be our century," said Sarkissian, after citing the critical role of the first Armenian Republic to set the stage of Armenia's advances. "The time when the world was run by interest in energy, oil, natural resources, is gradually declining. The new era is the time when human values, the brain, hard work, honesty, and talent will be driving the world. And this country [the U.S.] is a wonderful example of that," continued Sarkissian.