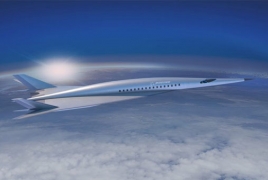 July 2, 2018 - 17:22 AMT
PanARMENIAN.Net - Boeing has revealed a concept design for a hypersonic aircraft that could reach most locations in the world within one to three hours, Dezeen reports.
The American aerospace company showed a rendering of what the plane could look like at the American Institute of Aeronautics and Astronautics conference in Atlanta this week.
Boeing said the design was based on current research by company engineers, who are looking at passenger travel as one of many possible applications for the hypersonic technology they are developing.
The technology would mean flying at Mach 5 (around 3,836 miles per hour). That's much faster than the supersonic travel achieved by the Concorde, which flew at Mach 2. The speed of sound is Mach 1.
Boeing estimates that something like this concept could be operational in 20 to 30 years' time, and would most likely be used for national security purposes first.
The company clarified that it does not currently have plans to build hypersonic aircraft; rather, it is working on the enabling technology.
Boeing's concept design features a thin, curved aircraft body that ends in a sharply pointed nose. It has a delta wing — the flat triangular silhouette familiar from Concorde planes.
Since those supersonic jets were grounded in 2003, there has been little visible progress in ultra-fast commercial air travel. That appears to be changing, with NASA putting a near-silent supersonic plane into production earlier this year and new company Boom testing its own passenger aircraft.