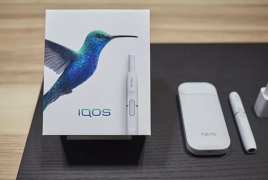 July 4, 2018 - 15:06 AMT
PanARMENIAN.Net - The new "heat not burn" smokeless cigarette devices are not as harmless as their manufacturer claims, The Guardian reports citing a new study.
iQOS – which stands for "I quit original smoking" – is made by Philip Morris International, best known as the manufacturer of Marlboro cigarettes. PMI says its future is "smoke-free", and it is investing in heated tobacco products, such as iQOS, and e-cigarettes, both of which it says are safer options.
iQOS devices are available in Armenia. They are battery-operated devices into which is inserted a "heat stick" containing a tobacco plug. The heat produces a vapour rather than harmful smoke.
The new research, published in the journal Tobacco Control, found that users speed up their "puff rate" in order to inhale more nicotine because the heat stick lasts for just six minutes, after which the device shuts off and needs to be recharged. That means they may potentially breathe in large amounts of vapour.
The device contains a plastic polymer film filter designed to cool the vapour. The study found that the heat was intense enough to melt the film even though it was not in direct contact with the heating element.
PMI said it welcomed independent testing of the product but disagreed with the findings. As the study had only just been published, the firm was still reviewing the results.