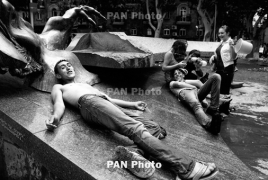 July 4, 2018 - 18:27 AMT
PanARMENIAN.Net - Visitors to Armenia might get a soaking surprise should they be visiting on a particular Sunday in July: A bucket full of water on their head. If Vardavar seems like a holiday conceived by mischievous seven-year-olds, it's because its chief component is drenching others with water, Smithsonian Magazine says in an article.
From bowls and from buckets, poured from windows onto unsuspecting passerby below and between consenting dousers in village centers, water throwing on Vardavar is a holiday unique to Armenia. With roots in pagan mythology, it was later adapted by the church such that its date each summer comes 98 days—14 weeks—after Easter.
Most recently, it's been promoted as a unique public holiday in Armenia—even one that may be attracting tourists from other countries, many of whom share the wild scenes of water-throwing among disbelieving friends back home, or on YouTube.
And while other elemental aspects of the tradition, involving fire, seems now secondary, there is still a tie to roses. Vart in Vardavar (also known as Vartavar) is the word for rose. "In Armenia it is mostly now a joyful and popular holiday just by water throwing games," says Ruzanna Tsaturyan, a curator at the Institute of Archeology and Ethnography at the National Academy of Sciences of Armenia's capital Yerevan, who has studied the tradition.
Vardavar was originally associated with the goddess Astghik, Tsaturyan says. As goddess of water, beauty, love and fertility, Astghik would present roses and spray rosewater intent on spreading love—and to honor Vahagn, god of fire and war. When Armenia became the first country in the world to adopt Christianity as the state religion in 301 AD, Vardavar became part of the Armenian Apostolic Church.
"Now it's also a church holiday in Armenia. It's included in the church calendar," Tsaturyan says.
Tsaturyan says "the holiday is mostly about nature, so it's always celebrated in nature. People go out for picnics to celebrate on the grass, in the nature, in the forest, near the spring water." There are some traditional foods associated with Vardavar picnics as well.